Bethesda Kitchen & Bath Remodeling Company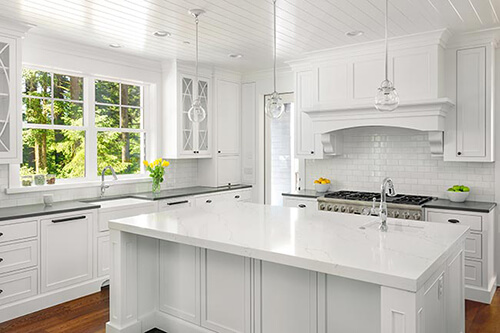 Since 1997, Artistic Design Build Inc. has provided superior remodeling services to homeowners throughout Bethesda, MD.
Transform Your Outdated Kitchen
From creating a more functional layout to optimizing your small space with innovative storage solutions, our home improvement contractors are dedicated to finding the perfect kitchen design for your home. We offer a wide selection of countertops, flooring options, appliances and lighting fixtures.
Beautify Your Bathroom
Artistic Design Build Inc. specializes in bathroom remodeling services to give you a luxurious new bathroom you'll love. We can install new shower and bath systems, water-resistant flooring, specialty fixtures and other one-of-a-kind features for a unique bathroom customized to you.
Our Process
Initial Consultation – Before we begin on your remodeling project, we walk through the areas where the desired construction will take place. We then go over the scope of the project, our building methodologies and your budget needs.
Design Consultation – We discuss one-on-one all of the in-depth plans you have for your project. Our design experts will brainstorm with you the vision you have for your space. After a preliminary sketch has been drawn up, we'll create an overview of material and product selections.
Architectural Designs & Plans – During this step, you choose the detail of your custom design and ensure all elements align with your desired budget. We then prepare all of the details and costs in a construction agreement.
Permits & Construction Schedule – After the house plans are solidified, we obtain permits and outline a construction schedule. Before the project begins, we schedule a pre-construction conference to answer other questions you have. We believe consistent communication is key to a successful project!
Get in Touch With Us!
Homeowners in Bethesda, MD, turn to Artistic Design Build Inc. for our innovative designs and specialty construction techniques. Our home improvement contractors have decades of experience in kitchen and bath remodeling. We also offer interior and exterior remodeling and custom-built homes and additions. Call (301) 962-0123 or fill out our online form to schedule your free consultation.