Enhance Your Outdoor Space With Low-Maintenance Decking – We Specialize in Ipe Decks in DC MD VA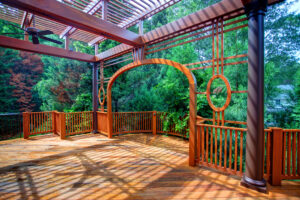 Are you considering the addition of a new outdoor living space for your home? Whether you want to increase the value and aesthetic appeal of your backyard or you need a place to entertain guests during the warmer months, there are many benefits to installing a deck. A deck increases the usable square footage of your home, giving you space you can use for cooking, dining, relaxing and even extra storage. Artistic Design Build, Inc. specializes in the design and installation of decking that brings your vision for your outdoor living space to life.
What Is Ipe Decking?
Ipe is an exotic hardwood sourced from South America. Also known as Brazilian walnut, ipe wood has a deep, rich brown color similar to mahogany. It's an excellent choice for outdoor applications including decks, fencing and furniture because it is extremely durable and long-lasting. Here's more about why Artistic Design Build recommends ipe for your new deck build.
Strength. Ipe is an extremely dense wood, which makes it stronger and more durable when used outdoors. You can expect an ipe deck to last at least 40 years, which is several times longer than most pressure-treated wood decking. With excellent care, ipe can last well beyond the 40-year mark.
Beauty. Ipe wood has rich color, with each piece of wood boasting unique graining that creates tremendous character for a deck. It not only lasts a very long time, it offers the beauty of a fine interior wood.
Low maintenance. There is very little that needs to be done to an ipe deck after installation. You don't have to worry about mold or preservative treatments. If you do not treat an ipe deck, it will slowly weather to a delicate silvery-gray patina; if you want to preserve the color, apply an initial coat of oil sealer and then continue with occasional reapplication.
Decay-resistant. The density and natural oils contained in ipe make it naturally resistant to rot, abrasion, weather and insects.
Get an Estimate for an Ipe Deck
Interested in learning more about ipe decking? Talk to Artistic Design Build, one of Bethesda's most trusted remodeling companies. Call (301) 962-0123 or schedule a consultation using our online form.
Click Any Image Below To Enlarge: