If you're like many of our clients when they first give us a call you probably know the feeling of having outgrown your current home – a kitchen that's too small, no room for the in-laws, not enough bedrooms, you name it! In fact, you may have even moved to the next logical step which is pondering whether it makes more sense to expand your existing home or move into to a new larger one.
As a design-build firm, that's a question we specialize in helping homeowners sort out of course. Not surprisingly, what we typically find is that clients who love their neighborhood, schools, and location are generally not all that eager to move if they can remodel right where they are and get the home they truly want.
Depending on your home's lot size and characteristics this usually means a look at expanding your home's first floor or building up to create a second or additional floor (and in some cases both.)
If this is something that you've been considering it helps to take a look at the process and planning a bit, starting with signs the time has come:
Reasons to Expand Your Existing Home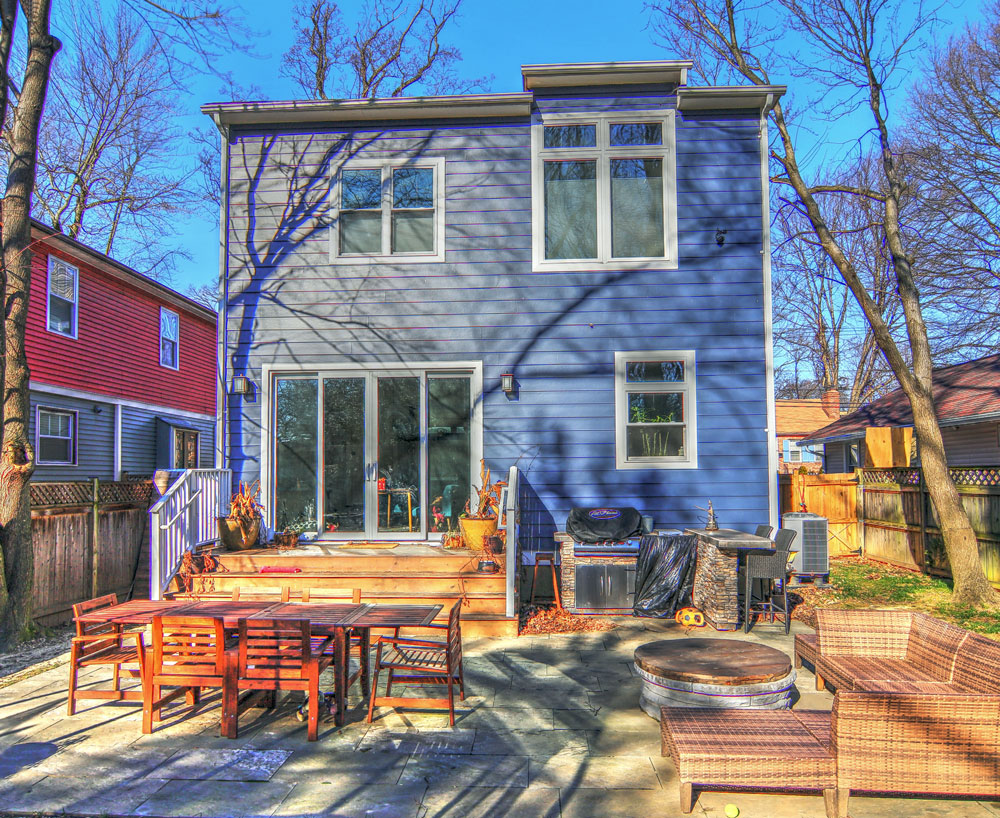 You love your neighborhood, its location and the venues, shopping and food choices.
Your family has or will increase either due to more children or aging parents moving in.
Your home no longer meets your needs due to expanding hobbies or work requirements.
You have enough space on your property to build out.
Your home is structurally durable enough to build up.
Every other home has performed renovations, additions and/or upgrades, and you're not over-improving for your area.
The Big Question – Should I Move or Improve!
Your decision to move to a new home or improve your existing one by increasing the square footage will primarily depend on how well you like your current area. If your neighborhood is not convenient to shopping, dining, and schools, or if the safety has decreased over the last few years, your best option may in fact be to move. For most of our clients in the Bethesda, Potomac, Chevy Chase, and Northwest, D.C. area the issue usually tends to be the house itself, so remodeling typically becomes the answer as opposed to uprooting to a new address altogether.
Another factor in the move versus stay equation is cost itself. It's generally estimated that it can take up to seven years to recoup your money when you move. If you don't plan on staying in a new home for at least seven years the financial argument for remodeling begins take the lead even further. After all, you can build any room you like, bump out existing exterior walls to create more space as needed, and even build up by adding a level to your home – all of which gives you complete control over your floorpan and layout without the cost of a move, settlement fees on a new home purchase, transfer taxes, and so on.
Determining the Types of Rooms You Need
Before we can begin the design-build process and work with you on establishing a budget for your additions or renovations, it's always best for you to give some though to the type or types of rooms or space you need to make your home truly work. Knowing this will help us work with you in determining whether you need to build up or out.
Here's a look a at the types of additions we see most often:
Typical Ground Level Additions
California room or sunroom
Family or living room
Garage additions
In-Law suite, Usually with a private entrance
Kitchen expansion, Usually with new patio doors to the backyard
New laundry room next to the kitchen, Usually with an additional exit to the yard and a mud room area.
Typical Second Story Additions
Crafting or hobby rooms
Exercise room, usually next to the master bedroom
Master suite
New laundry room next to bedrooms
Office expansion, usually with a private entrance
Over garage addition
Private family gathering spaces
Standard bedroom
Typical Third Story Additions
Master suite, especially dual master suites
Family rooms and private living spaces
Storage and holiday rooms
Studies and reading rooms
Exercise and hobby rooms
Existing Home Layout and Footprint
Whether you build up or out may depend on the size, shape, existing footprint of your home and your available yard space. If you plan on adding a rear addition, how big is your yard and what are your future plans for your backyard? While a small yard may offer the space needed for an expansion, it may not leave adequate room for a pool, garden, or large outdoor entertaining space. In cases like these the best path for expanding the square footage of your home is often building up or adding a room at the side or front of your home.
Side additions are typically possible when you have a cottage home or a significant amount of space in a side yard that you do not use. Common rooms added to the sides of homes include bedrooms and bathrooms and in-law suites. You can also relocate kitchens and dining rooms to a side addition or add an attached garage.
Front additions involve moving the front wall forward. You'd want to perform this type of home renovation if you have a large front yard and a smaller backyard. Front of the house additions are typically used to expand living rooms, family rooms and bedrooms that are located at the front of the house.
Getting Started With A Free Consultation
If you're interested in exploring a possible renovation for you home just give us a call at (301) 962-0123 or email here to our office to schedule a time to talk further. As the construction lead, I personally will come out to meet you on site, talk further, and discuss your design ideas and goals.
To learn about our full process visit us on our website here:
Look forward to speaking with you soon!
Sincerely,
Tom Mammen
Founder, Artistic Design Build